Northern Ireland Childcare Survey 2020
Employers For Childcare has published the findings of its 11th Northern Ireland Childcare Survey. This year, we carried out two surveys examining issues in relation to childcare, exploring the views of parents and childcare providers. This was necessary due to the impact of the Covid-19 pandemic. Across the year, we conducted the following research:
Prior to the pandemic: Northern Ireland Childcare Survey with parents and childcare providers
During the pandemic: Follow up survey with parents focused on access to childcare during Covid-19 and how this impacted their ability to work.
Across the two surveys, we received more than 5,000 responses and the findings provide vital insight into the childcare challenges of 2020 – many of which have been exacerbated by the Covid-19 pandemic but not created by it. The findings from this report highlight the underlying challenges – rising costs for parents and providers, families struggling to access and afford the childcare they need and many providers struggling just to break even – but also how these challenges have been amplified by Covid-19, with the vital role of childcare to our economy and society now widely recognised.
Key findings:
The average cost of a full-time childcare place in Northern Ireland is £169 per week:

£181 per week for a day nursery
£165 per week for a childminder

County Armagh continues to have the highest average cost of a full-time childcare place – £174 per week, whilst County Fermanagh experiences the lowest average full-time childcare costs of £150 per week
One third of parents said childcare is their largest monthly outgoing, exceeding their mortgage or rent payment
During the initial months of the Covid-19 pandemic, from April to August, three quarters of parents said they were not able to access any childcare for some or all of this time
One in five parents had to use annual or unpaid leave to manage childcare, while over a quarter were working outside of normal hours – early in the morning or late at night, to provide childcare during the day
In 78% of families, at least one parent had to manage childcare responsibilities while working
70% of parents who have a child with a disability said if their childcare provider temporarily closed due to Covid-19, they would have no access to childcare.
What parents told us…
"Covid-19 has brought into very sharp focus just how much we rely on those who look after our children and the massive benefit they have provided to them."
 "Nurseries and childcare are critical to parents. They play such a vital role in allowing parents to work… Please do not let the schools and childcare settings close again!"
 "Covid-19 has highlighted the value and importance of affordable reliable and flexible childcare for working families."
"It was very difficult to juggle everything but we had no other option as we had no access to childcare but still had a job to do."
 "It was an incredibly stressful time, working full time from home with two young children and home-schooling. The days were very long!"
Looking ahead
The survey findings show there is a strong consensus that the Government needs to take robust action to support families and the childcare sector, particularly to mitigate the disruption of any potential school or childcare closures due to Covid-19. While funding allocated to the sector has been welcomed, our research adds to a strong evidence base which reinforces the importance of further financial support for the childcare sector, and for parents, and the crucial need for strategic investment and a Childcare Strategy.
Download the full report and the Executive Summary from this page.
If you have any questions about the report, contact us on 028 9267 8200 or email hello@employersforchildcare.org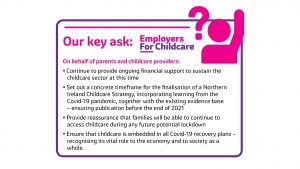 We would also like to thank all of the parents and childcare providers who completed our surveys. This report highlights and reflects their views, attitudes and experiences.
We continue to work with policy-makers and elected representatives to achieve a childcare system that is affordable, accessible and flexible to meet the needs of families, childcare providers and employers.