Childcare Providers
We're here to support you
Employers For Childcare is here to provide support to childcare providers, whether day nurseries, childminders or another form of childcare such as out of school clubs or Approved Home Childcarers.
We deliver the following services for childcare providers:
recruitment service, to reduce the cost and hassle in finding appropriately qualified staff
AccessNI checking service
support and guidance through our Family Benefits Advice Service.
Recruitment service
For more details on our specially designed recruitment packages for childcare providers click here.
Our recruitment service is only available in Northern Ireland.
AccessNI checking service
For more details on our AccessNI checking service, click here.
Support and advice
Our Family Benefits Advice Service provides advice and guidance to parents, employers and childcare providers. This includes advising on the latest developments in relation to childcare support, carrying out personalised 'better off' calculations and sharing up-to-date information on issues such as employment rights for parents. Our charity also carries out research into childcare issues and lobbies Government at all levels across the UK.
We can deliver free, tailored advice sessions within childcare settings  for both employees and parents. Here's some feedback on a recent session hosted by one of the team: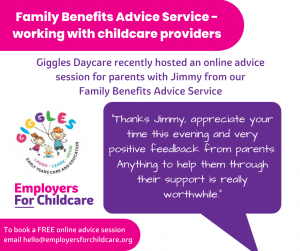 To book an advice session for your childcare setting, email hello@employersforchildcare.org and one of the team will be in touch to make the arrangements.
To find out more about the work of the Family Benefits Advice Service, click here.
Tax-Free Childcare
Webinar outlining details of the Tax-Free Childcare scheme for childcare providers and other early years professionals - our Head of Charity Services Aoife Hamilton provides an overview of the work of the Family Benefits Advice Service in advising parents on what financial support they are entitled to.