Family Benefits Advice Service
Can I get help with my childcare costs?
As a parent, do you know where to start in finding out what financial support or benefits are available to you? Do you know how to claim help with registered childcare costs? Whatever your circumstances, our Family Benefits Advice Service is here to help. Many people are missing out on support because they don't realise what they are entitled to. All it takes is one quick call to our team and you could be better off as a result.
Our charity provides free, impartial and confidential advice to parents on the financial support available towards childcare costs as well as other help that you may be entitled to.  Our advisors also provide guidance to employers on issues relating to childcare, employment entitlements and workplace legislation. We do this through our Freephone helpline 0800 028 3008 and by delivering advice sessions directly to parents, for example in Sure Start groups, and through other parent support groups as well as offering information and advice sessions through childcare providers and employers.
We can help, if you are a parent with dependent children, and you are: 
Unsure of which benefits you may be entitled to receive if you start or go back to work.
A new parent finding and paying for childcare for the first time.
Unable to work due to childcare costs.
Thinking about changing your hours of work.
Trying to find the best childcare option for your family.
Struggling to manage work and family responsibilities.
Remember, most working parents are entitled to financial support with their childcare costs, provided they are using a registered childcare provider. Here's some examples of families we have helped, and the amount of financial support we were able to identify, to help them with their childcare costs.
Childcare Vouchers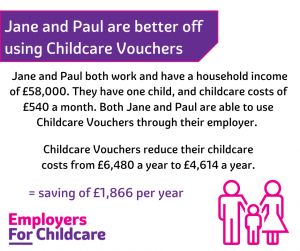 Tax-Free Childcare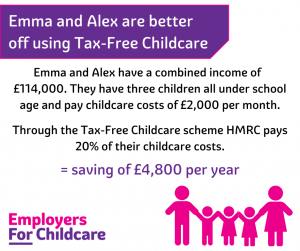 Tax Credits
Universal Credit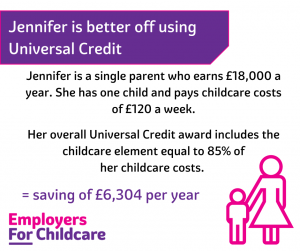 Find out what help you are entitled to
Information required for a calculation
Our advisors carry out "better off" calculations to help parents choose the best financial support available to them towards the cost of childcare and identify other benefits they may be entitled to, to help maximise their income. These calculations can be based on a number of different scenarios to enable you to assess how any decision you make will impact on your household income. It is helpful if you have the following information ready when you call:
P60 income for previous tax year
Estimated earnings and weekly working hours for this tax year
Childcare costs (or expected childcare costs)
Details of any disability or sickness benefits you are entitled to
Housing costs including rates
Details of maternity leave and pay, if applicable
Immigration status, if applicable
Get in touch for more information or call 0800 028 3008 to speak to a trained Family Benefits Advisor. This service is free, impartial and confidential.
What form of support is best for your family?
The support that is best for you will depend on factors such as your household income, the number of children in the family, childcare costs, and whether a child or family member has a disability.
It is important that working parents make an informed choice when choosing which form of financial support towards the cost of registered childcare best suits their family's needs. We have published a guide 'Help towards registered childcare costs' which provides an overview of the various forms of financial support available to working parents and may be a useful resource. In addition, our Family Benefits Advice Service offers one-to-one advice that can help you make that informed choice.
Employers For Childcare is a member of Helplines NI.   For information on other helplines and support services available visit Helplines NI. 
James Gallagher from our Family Benefits Advice Service addresses a common myth - that those who are in work are not entitled to any support with childcare. Most working parents are eligible for some form of support with childcare costs - contact us on Freephone 0800 028 3008 for a free, personalised 'better off' calculation and we can help you work out what's best for your family.