Mothers taking earnings hit due to difficulties accessing or affording childcare
New figures published by the Social Market Foundation (SMF) suggest that women who have a baby can miss out on almost £70,000 in wages over the following decade. The figure was revealed as the Foundation launched a cross-party Childcare Commission, that will be led by Conservative MP John Penrose and Labour MP Siobhain McDonagh, to analyse the impact that difficulties accessing or affording childcare can have on wages and poverty.
SMF's analysis of the Understanding Society dataset found that having a child had a significant and sustained impact on a woman's earnings. Women on lower incomes faced the biggest losses in earnings in their child's early years, the SMF found. In the first three years after having a baby, women on lower incomes saw their earnings fall by around 30%, while women on higher wages saw their earnings drop by around 20%.  The SMF point to the high cost and limited availability of childcare meaning it is often not possible for parents to work as much as they want to, leading to reduced earnings, stalled wage growth, and limited career progression.
This echoes the findings of Employers For Childcare's most recent Northern Ireland Childcare Survey, where we found that difficulties in accessing or affording childcare impacted on the ability of parents to work. This affected 44% of the parents who participated in the research, rising to 58% of mothers, compared to 27% of fathers. This has impacted on those parents in a range of ways, with mothers more likely to have had to reduce their hours of work, have experienced limited career prospects or progression, or to have had to stop working altogether.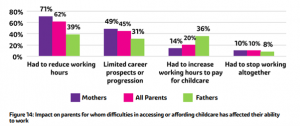 For families, investment in childcare is a key component in addressing the current cost of living crisis, and plays a critical role in helping to address gender inequality. But investment in childcare to support parents to continue in and progress in work also has wider economic benefits, not just for parents but for the economy as a whole. The Centre for Progressive Policy has reported that investment in childcare could increase the total annual income of working mothers in the UK by up to £10 billion, generating up to £28 billion in economic output per annum.
The new SMF Childcare Commission will carry out further data analysis, and take evidence from key stakeholders, to make recommendations later this year on how childcare provision can work better for families and the economy in Britain.
In Northern Ireland, we need a childcare system that can promote economic participation and enable all parents, but particularly mothers, to get into, stay in and progress in work. This requires investment in an ambitious, fully funded Childcare Strategy that recognises childcare as part of our essential economic infrastructure. We look forward to reviewing the Commission's recommendations, which may be useful in informing ongoing work on the development of a new Childcare Strategy for Northern Ireland.