Choose Employers For Childcare and make a real difference for families
Employers For Childcare is a Social Enterprise – the UK's only Social Enterprise business providing Childcare Vouchers. We invest the profits from our business activities in our charity, creating positive social change for families across the UK.
In 2019/20, we invested almost £200,000 in our charity from our Social Enterprise activities. This enabled our charity's Family Benefits Advice Service to identify collective financial support of almost £12.6 million for families. That's £12.6 million back in the pockets of families across the UK, and in the economy. In fact, for every £1 we invested in our charity, we identified a direct saving for families of £63.
This is only possible because employers choose to use Employers For Childcare to administer their Childcare Voucher scheme. So as well as generating a saving for themselves, and their staff (through reduced tax and National Insurance Contributions), the employer – by supporting the working of our Family Benefits Advice Service – helps us to deliver free, impartial and confidential advice to families across the UK.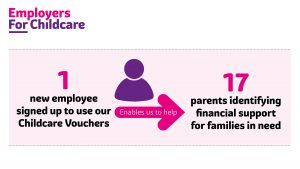 How does Employers For Childcare support families?
We know parents are typically juggling many things from managing the school schedule, childcare and after school activities to meeting work deadlines and organising family commitments.
Employers For Childcare is here to help by providing a 'one stop shop' for families to receive free, impartial and confidential personalised advice on the financial support available with childcare as well as other help that they may be entitled to. It can be confusing working out what support is available, so rather than trawling through a range of websites and trying to digest complex information – that may or may not apply – one call to the Family Benefits Advice Service can help families to be better off.
Our Freephone helpline – 0800 028 3008 – is available Monday to Friday, 9am to 5pm. One of our friendly, trained advisors discusses each caller's details and is able to tell them what financial support may be available, and what the best option is based on their circumstances. We can also support parents to make better decisions by discussing their options ahead of a return to work, or change in circumstances, enabling them to consider different scenarios.
As well as providing one-to-one support through our Freephone helpline, we also deliver outreach sessions for groups, employers and childcare providers. At present, these sessions are primarily being delivered online.
Last year, we helped almost 8,000 people directly, completed over 5,100 calculations for parents and delivered over 240 outreach sessions.
Whatever a family's circumstances, our team is here to help. Here are just a few examples of some of the people we have helped over the last year:
Contact the Family Benefits Advice Service
So whether it's help with choosing childcare, help with childcare costs or finding employment and benefits advice – give our advisors a call on Freephone 0800 028 3008.
Choosing Employers For Childcare
If what you've read has inspired you to 'buy social' and increase the social value your organisation creates by switching your organisation's Childcare Vouchers to the UK's only Social Enterprise provider, get in touch by emailing hello@employersforchildcare.org for a competitive quotation, tailored to your business.
 Find out more by reading our last Social Impact Report available here.