£20 cut to Universal Credit will result in many families struggling
The £20 per week cut to Universal Credit has now been implemented, despite months of campaigning and widespread criticism of the move, including from within the Government's own party.
Coming at a time both when the cost of household essentials such as food, heat and electricity is rising, and when the Government is trying to stimulate spend across the economy, this cut is damaging not only for the families affected, but for our economy and society as a whole.
It will push more low income families with children into poverty, with parents having to make desperate decisions about what has to 'give' in order for their children to be fed or to be warm this winter. In many of these families, parents are working, while in others parents may be unable to work due to ill health or caring responsibilities.
Daily, our charity's Family Benefits Advice Service is supporting families who rely on Universal Credit as an essential part of their household income and are struggling to work out how they will make up the weekly shortfall.
Who will be affected by the cut to Universal Credit?
In Northern Ireland there are more than 116,000 households in receipt of Universal Credit. 42% of these are families with at least one child. Almost a third of Universal Credit claimants are people who are in work, while more than a third are those who are not expected to work, for example due to health reasons or because they have caring responsibilities which prevent them from working.
Each of these households will be worse off by £20 per week – that's over £114 million lost from the Northern Ireland economy over the next 12 months.
For families, they are now working out how to cope with more than £80 a month wiped from their household budget at a time when the cost of living is going up.
Here are just some examples of how this will impact on families: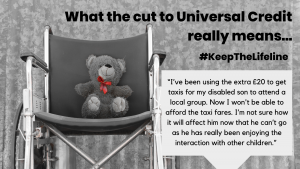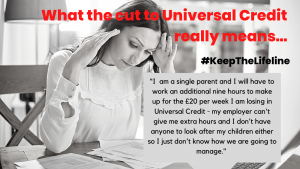 We are here to help
The cut to Universal Credit and rising costs for households combine to make the coming months a very challenging time for parents. It has been referred to as a 'perfect storm' of rising outgoings, decreasing income, and for many households very little prospect of being able to mitigate against these outside pressures. Now more than ever it is vital that you are sure you are claiming all forms of financial support your family may be entitled to.
If you are concerned about this cut to Universal Credit or wish to find out more about what financial support you may be entitled to, contact our Family Benefits Advice Service and one of our skilled advisors will be able to give you a personalised calculation. For free, impartial and confidential advice call us on Freephone 0800 028 3008 or email hello@employersforchildcare.org