Our Social Enterprises
Employers For Childcare comprises a Social Enterprise and a registered charity. 100% of the profits from our Social Enterprise businesses – a Childcare Voucher company, a recruitment service for childcare providers and High Rise (an indoor family adventure centre) are invested into our charity.  As a charity, our aim is to make it easier for parents with dependent children to get into work and to stay in work. We address childcare as a labour market and economic issues, as well as a social one.
What is a Social Enterprise?
Social Enterprises are businesses that trade to alleviate social problems, improve communities and enhance people's life chances. They make money from selling goods and services in an open market, but they reinvest their profits back into the business or the local community to maximise social impact and to create social change. They do this in lots of different ways: creating jobs for people who may be marginalised, reinvesting profits in community projects or charitable work, protecting the environment, or providing vital services for people who might not get them otherwise.
Chris Addison & Michael Sheen explain...
Watch this short video below for a comprehensive, simple and fun explanation of what social enterprises are, how they are part of an inspirational sector making a positive difference to people and the environment, and how they differ from charities and traditional businesses.
What is Social Enterprise podcast
As part of the Social Enterprise NI podcast series, Marie Marin, Chief Executive of Employers For Childcare explains what we do and why we are proud to be a Social Enterprise as well as highlighting the role of our charity, including the Family Benefits Advice Service and the social value that we create as an organisation.
Employers For Childcare as a Social Enterprise
Our Social Enterprise, Employers For Childcare Trading, provides a range of services:
Childcare Vouchers
We operate the only Social Enterprise Childcare Voucher company in the UK which benefits:
working parents: who save money on childcare costs
employers: through savings on Employer's National Insurance Contributions, reduced absenteeism, and increased staff motivation/productivity
families across the UK: our charity (funded through our Social Enterprise activities), advises parents on what financial support they are entitled to, and lobbies policymakers on their behalf.
While Childcare Vouchers closed to new entrants on 4 October 2018, existing users who have already registered for Childcare Vouchers, can continue to use the scheme, as long as they remain eligible. For further details on this, contact our Family Benefits Advice Service on 0800 028 3008. Employers can also choose to switch their Childcare Voucher provider company – if you are interested in buying social, why not find out more about making the switch. Remember, it doesn't cost you anything but benefits families across the UK!
High Rise 
In October 2019 we opened a brand new, £2.5 million indoor family adventure centre called High Rise at our existing premises on Altona Road, Lisburn. High Rise has been designed to be inclusive and accessible, including for those with special and additional needs, and features two innovative sensory rooms benefiting a range of users, as well as a Changing Places accessible toilet. As a Social Enterprise, the profits from High Rise are invested in Employers For Childcare's charity which supports working parents.
High Rise reopened in July 2022, for more information or to book a visit to the centre, visit our website or our Facebook page.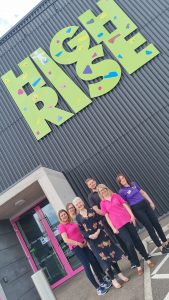 Recruitment services
For childcare providers in Northern Ireland, we help to remove the time and hassle involved in finding staff by offering tailored recruitment packages. Email hr@employersforchildcare or click here to find out more.
Learn more about what we do