Supporting parents this Parenting Week
Parenting Week is a celebration of the truly vital role parents play in their children's lives. The week takes place in Northern Ireland every October and is organised by Parenting NI. In 2022, Parenting Week runs from Monday 17 October to Friday 21 October. The theme for this year's Parenting Week is 'appreciating and valuing parents'. You can find out more about the various events and workshops running during Parenting Week here.
We know, from our work directly with families, that one of the challenges parents can face is financial pressure, from paying for registered childcare to managing household budgets that are being stretched to breaking point due to the cost-of-living crisis. Our Family Benefits Advice Service is here to help. Parenting Week is a great opportunity to reach out and speak to our team, and ensure you are accessing all the help and support you are entitled to. It's what we are here for, and we would love to hear from you!
Together with Parenting NI, we've produced this graphic to remind parents of just some of the support you might be entitled to: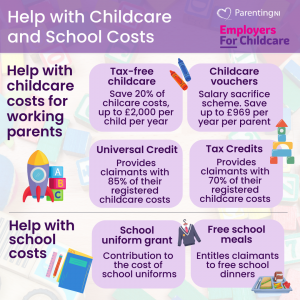 Find out more at a FREE online information session for parents
Employers For Childcare, in partnership with Parenting NI, is offering a free online session which will explore supporting parents with the rising cost of living and with their emotional and emotional and mental health. Details are:
Date: Tuesday 18 October
Time: 10 to 11am
Where: via Zoom
To register: call the Parenting NI Support Line on 0808 8010 722.
We would encourage all parents to sign up to join this session – and look forward to seeing you there.
Supporting parents every week
Employers For Childcare's Family Benefits Advice Service provides free, impartial and confidential advice to parents on the financial support their family is entitled to and can help families work out if they are eligible for support with the cost of registered childcare.
Our Freephone Helpline is available 9am to 5pm Monday to Friday. We also provide face-to-face and virtual information sessions for parents, employers and childcare providers. Our website has various resources from our range of factsheets to our series of benefits advice videos.
To speak to an advisor simply call us on Freephone 0800 028 3008 or email hello@employersforchildcare.org. We'd love to hear from you!