Reflecting on a challenging year and looking forward to a brighter 2021
As we embarked on a fresh new decade in January 2020, few could have predicted what the first year of the 2020s would bring. Just three months in, we were faced with the global Covid-19 pandemic, that has cost millions of lives around the world, in addition to its long-lasting and far-reaching economic and societal implications.
For Employers For Childcare, Covid-19 brought a number of immediate impacts. We were devastated to have to close the doors of High Rise, our fantastic new social enterprise indoor adventure centre, just opened in October 2019, which had already brought so much fun to so many (and taught us so much!). We also had to quickly mobilise all our staff to work temporarily from home to ensure that we could continue to deliver the services that our clients depend on, including the work of our charity and processing Childcare Vouchers on behalf of 2,000 plus employers and 14,000 plus parents from across the UK.
With the lockdown came the closure of many childcare providers to all but the children of Health and Social Care key workers, which in turn left many parents, including those who were more broadly defined as key workers, facing significant childcare challenges. Our Family Benefits Advice Service was to the fore in advising parents on the options available, and in helping them to access the financial support they were entitled to. During these early months of lockdown, our charity's small team helped over 600 people directly impacted by Covid-19. In recent months we have moved to delivering information through online advice sessions and Facebook Live events, helping us to reach more parents and continuing the delivery of 'face-to-face' guidance.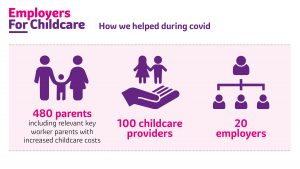 Covid-19 also saw our charity take on an enhanced role in advising the Departments of Health and Education on their response to the pandemic through membership of the Childcare Reference Group. We would like to thank colleagues from within the Departments and across the sector for their meaningful engagement and dedication in seeking to support the sector at this challenging time, and look forward to working with them in securing the much needed Childcare Strategy for Northern Ireland.
Our vital policy work has continued and developed over the course of 2020 and also includes providing the Secretariat for the new All-Party Group on Early Education and Childcare, which will play a key role in securing increased support for parents and the childcare sector in the longer-term. Our unique insight into issues around affordability of childcare, and the importance of childcare for parents to get into and stay in work, built up over the past 10+ years of carrying out the Northern Ireland Childcare Survey has also earned us a place on the Co-Design group supporting the Department for Communities in the design and implementation of an Anti-Poverty Strategy.
Our latest research report, the Northern Ireland Childcare Survey 2020, was just published last month and includes both the latest annual data around the cost of childcare in Northern Ireland and how parents are using it, along with the findings of our dedicated survey on childcare during Covid-19. This snapshot survey exposed the many childcare challenges parents have faced over the past year and how this has impacted their work and family life. This research provides us with an important platform for lobbying for increased investment in our vital childcare infrastructure, which Covid-19 has exposed as being essential in enabling parents to go to work and for the economy to function effectively.
While 2020 has brought many challenges, we have lots of positives to reflect on as well. Prior to Covid-19, we were delighted to win 'Best Social Enterprise' and 'Best New Business' (for High Rise) at the Lisburn and Castlereagh City Council Business Awards. More recently, and when Awards ceremonies involve dressing up and joining the celebrations via Zoom, our Chief Executive, Marie Marin, won 'Inspiring Leader of the Year' at the CO3 Awards, with our Head of Charity Services Aoife Hamilton being awarded Highly Commended in the 'One to Watch' category. We are also proud to have switched a number of UK wide Childcare Voucher clients in 2020, on the basis of the social value that we can help them to create, as the only Social Enterprise Childcare Voucher provider in the UK.
More importantly, we are delighted that we have been able to continue to provide our services, supporting parents, employers and childcare providers throughout this most challenging of years. In the past year over 120,000 people have engaged with our Family Benefits Advice Service, whether in person, online or by telephone and we have carried out more than 5,000 personal benefits checks, identifying £12.6 million in financial support for families across the UK.
Thanks to all those who have supported us, particularly the team at Social Enterprise NI and those from across Government who have really taken on board the valuable work being done by the Social Enterprise sector, and ensured that it has received the financial support needed to get through this challenging period, and looking ahead, that it will be able to lead the way in the goal to #BuildBackBetter as we emerge and recover from Covid-19. Thanks also to our own Board of Trustees for their ongoing support and strategic guidance and direction.
As we look ahead into 2021, we won't make any predictions, but we look forward to joining in the shared aim to #BuildBackBetter by continuing to provide our services to those that need them, by continuing to campaign for better support and investment in childcare and by reopening High Rise, stronger and better than ever!
Best wishes for a safe and restful Christmas and hopefully 2021 will be kinder to everyone and help to lift our spirits once again.
Please note our office is closed from 5pm on Wednesday 23 December, reopening on Monday 4 January 2021.