Employers For Childcare supporting parents this Parenting Week
Parenting Week is a celebration of the truly vital role parents play in their children's lives. Parenting Week takes place in Northern Ireland every October and is organised by Parenting NI. In 2023, Parenting Week runs from Monday 16 October to Friday 20 October. The theme for this year's Parenting Week is 'The positivity of parenting'. You can find out more and get in involved with what's happening this week on the Parenting NI Facebook page here.
Employers For Childcare recognises the many challenges faced by parents, particularly around finding and paying for the childcare they need to work. We are here to support all those in a parenting role to make sure they are receiving all the financial support they are entitled to, including with childcare costs, but also with issues such as housing and back to school costs. We can also advise on disability benefits for families of children with additional needs.
The parent-child relationship is one that nurtures the physical, emotional and social development of the child. It is a unique bond that every child and parent can enjoy and nurture.
Parenting NI have produced this graphic to show 6 benefits of a positive parent-child relationship.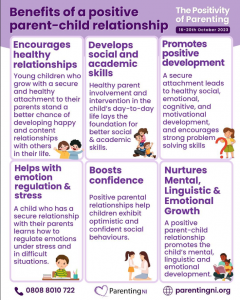 Supporting parents every week
Employers For Childcare's Family Benefits Advice Service provides free, impartial and confidential advice to parents on the financial support their family is entitled to and can help families work out if they are eligible for support with the cost of registered childcare.
Our Freephone Helpline is available 9am to 5pm Monday to Friday. We also provide face-to-face and virtual information sessions for parents, employers and childcare providers. Our website has various resources from our range of factsheets to our series of benefits advice videos.
To speak to an advisor simply call us on Freephone 0800 028 3008 or email hello@employersforchildcare.org. We'd love to hear from you!