Employers For Childcare looks back on a great 2019!
As we look back on 2019, it's been a busy year for the Employers For Childcare team… From opening our fabulous new indoor activity centre – High Rise – to supporting the establishment of a new All-Party Working Group at Stormont, the hard work hasn't stopped!
Our newest Social Enterprise, High Rise, opened its doors in October and has already seen thousands of guests reaching new heights in our Clip 'n Climb arena, enjoying the fun of our soft play area, and benefiting from our innovative sensory rooms.
It's also been a celebratory year for the team, as we were awarded 'Social Enterprise of the Year' for our work and contribution to the social enterprise sector in Northern Ireland. Marie Marin, Chief Executive of Employers For Childcare, picked up two incredible awards – 'Lifetime Achievement Award' and 'Woman of the Year' at the UK Social Enterprise Awards in London. She was also made an Honorary Fellow of Social Enterprise UK.
This year, our Family Benefits Advice Service have travelled across Northern Ireland, right from Strabane to Strangford, delivering support and confidential benefits advice to more than 11,000 people on financial support they are entitled to. We also hosted the ninth UK Family Friendly Employer Awards (our biggest to date!) to showcase employers who go above and beyond the legal requirements for their staff, and are already looking forward to our Family Friendly Employer Workshop in the new year.
We launched our 10th annual Northern Ireland Childcare Survey at Stormont and presented the research findings from the Survey to key stakeholders from across the public, private and childcare sectors as well as a wide cross-section of elected representatives. Our research and policy team continues to lobby on behalf of parents, employers and childcare providers to ensure that childcare is a top priority for a restored Executive.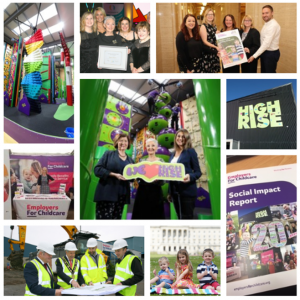 As we head into a new decade, we have reflected back on the last ten years, which saw us invest £6.7 million into our charity, and identify £66 million of support for families across the UK. We are proud of what we have achieved to date and excited to deliver even more positive social impact.
We would like to thank everyone for their support, and we wish you all a very Merry Christmas and a Happy New Year! See you in 2020!
Please note our office is closed on 24, 25 and 26 December 2019, and 1 January 2020.