Back to school but it's definitely not back to business as usual for parents or employers
It has been a return to school like no other as parents have adjusted to a whole new regime (or several new regimes for those with children at different schools) of staggered drop off and pick up times, rules around school bags and packed lunches and the wearing or non-wearing of masks. Most parents we speak to, while perhaps a little anxious about the risks around schools reopening, have told us they breathed a huge sigh of relief that their children were able to return on a full-time basis and there will be no immediate return to the home-schooling of the earlier phase of the pandemic.
But while children have returned to school on a basis much closer to 'normal' than was previously anticipated, this does not mean that employers should immediately expect their employees to be in a position to return to their pre-COVID-19 working patterns. As outlined above, and particularly for those with a number of children at different schools, navigating a wide range of drop off and pick up times is a major challenge. Some parents, including those of children with health conditions, will be reluctant for them to return to using school or public transport and for others, their usual 'wraparound' childcare may not be available as it was before. And all of this is before factoring in the impact of outbreaks, or even individual cases, of infection within school and childcare settings. These may lead to classes or pods, or even whole schools or settings having to close (in the worst case scenario) but will certainly result in periods of self-isolation and perhaps testing for children and their parents.
Positive impact of COVID-19?
If we are to look for the positives from the COVID-19 pandemic, a clear and welcome change is that many more parents are now in a position to work from home, or to avail of more flexible working arrangements, than ever before. While mid-March posed a real challenge for many organisations who hadn't previously embraced 'home-working' as we saw a scramble to set up remote networks and provide access to IT equipment for their employees, the benefit of having this in place is now being realised by employees and employers alike.
For those employees who are set up to work remotely, any periods of enforced self-isolation (and we can expect these to be frequent as we enter the autumn and winter cold and flu season) can now be used productively – benefiting both the employee, in that that they aren't faced with having to use large amounts of annual or unpaid leave – and the employer.
Working from home won't work for everyone
At the same time, we know that for some employees, working from home will simply not be an option, either because the type of work they do doesn't permit it, or for other reasons. For those who are parents, there could be additional challenges in terms of arranging care for a child who has to self-isolate or making arrangements to travel for testing. Options may include annual leave, parental leave or in some cases unpaid leave. This could put a real financial strain on a family. Our Family Benefits Advice Service is here to help all parents identify what financial support they are entitled to. So, if you are a parent in this situation – give us a call to discuss your options. If you are an employer, why not contact us to schedule a free online advice session for your staff so that they have the opportunity to find out more NOW about what their options might be, and to ask questions from one of our skilled advisors. Contact our team on 0800 028 3008 or email hello@employersforchildcare.org to schedule a session for your employees.
A flexible approach
Our research shows that 91% of parents find it difficult to combine work and family commitments[1], and that was before the additional challenges of COVID-19, yet the business case for employers adopting flexible work-life balance policies is clear – increased productivity, better staff retention, reduced absenteeism and easier recruitment.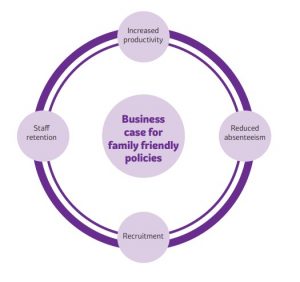 We would remind employers that, while for them it may seem like a return to 'business as usual' is imminent, this is not the case for many of their employees, including those with caring responsibilities, and would like to encourage employers, where possible to take a flexible approach. This may include offering their employees a different working pattern or facilitating them continuing to work from home for some or all of the time, where the business allows for this. Good communication is key and some flexibility is likely to help promote positive working relations and enhance staff loyalty and productivity.
We are here to help
For information and advice on implementing family friendly working policies, employers can download our Family Friendly Employer Guide from our website, or can call our Family Benefits Advice Service on 0800 028 3008. We are also here to help parents to understand their rights and entitlements in terms of requesting family friendly working arrangements – just give the team a call on the number above or email hello@employersforchildcare.org for free, impartial and confidential advice.
[1] Employers For Childcare's 'Striking the Balance' report: 2015