Family Friendly Employer Awards 2019
The 2019 Family Friendly Employer Awards ceremony and celebration lunch took place in Galgorm Resort and Spa on Wednesday 16 October.  The gala event, which saw the highest ever attendance of almost 200 professionals from across the UK saw six organisations crowned 'Family Friendly Employer of the Year' for their sector, along with an overall winner – South Eastern Regional College.
The keynote speaker was Belinda Brown from Diageo, who spoke about how she makes family friendly working 'work' for her in a senior role which involves significant international travel. In an entertaining and informative talk, Belinda offered advice to guests about cultivating a positive 'work-life rhythm' and to HR professionals and business leaders about the importance of ensuring a family friendly culture throughout their organisations – talking about the 'tone at the top, mood from the middle and buzz from the bottom'.
Guests also heard from Employers For Childcare Chief Executive Marie Marin, who highlighted why the Awards are an important recognition of those organisations who go 'above and beyond' to look after their employees. Finally one of the judging panel, Jeanette Harrison, Senior Lecturer at Ulster University, gave some helpful hints and tips on completing a winning application.
The event was hosted by Mid and East Antrim Borough Council and was sponsored by Ulster University, Henderson Foodservice, Michelin Development Ltd, NIJobs.com, HighWire Press, Insight.Out and Citi. Thank you to all our sponsors, and exhibitors at the event – your support is hugely valued and helps us to ensure the Awards are the very best they can be.
The Family Friendly Employer Awards were judged across six categories. The winners and highly commended of each category are listed below.  The judges also awarded an Overall Winner to the organisation which scored most highly from all the entries.
Overall Winner & Public Sector Winner
South Eastern Regional College was crowned overall winner at the 2019 Awards, and also won the 'Public Sector' category, which was sponsored by Insight.Out. Overall, this was a really high quality entry, showing innovation, progression, timelines, statistics, evidence of planning for the future as well as effective methods of communicating and connecting with employees. In short, South Eastern Regional College proved how and why it goes above and beyond to provide a family friendly environment for its employees.
Public Sector - Highly Commended
The Highly Commended in this category was Belfast Health and Social Care Trust. This organisation made a real impression on all of the judges – despite budget restraints they have gone above and beyond the statutory requirements with summer schemes, time off for fertility treatment, extended maternity leave, carer's support network frameworks and the Let's Talk Dementia Café.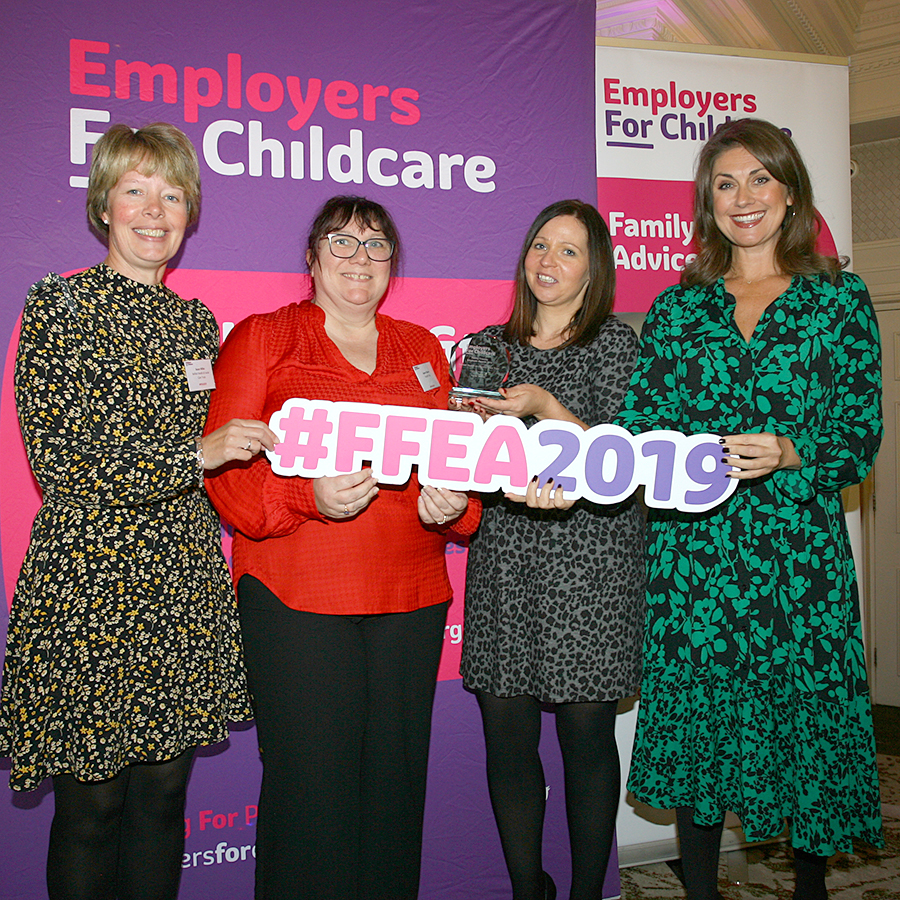 Social Enterprise - Winner
A new entrant this year, Footprints Women's Centre picked up the Social Enterprise Award, sponsored by Ulster University, by demonstrating an innovative range of initiatives and support in place for employees. All of the judges were particularly impressed with the good range of subsidised childcare for staff and their ambitious plans for the next three years.
Social Enterprise - Highly Commended
Clanrye Group were the Highly Commended organisation in this category – in recognition of how they had increased their health and well being initiatives in the past year, and their responsiveness to staff needs.
Advice NI picked up the Charity Award, which was sponsored by Henderson Foodservice. The judges liked their honesty in addressing the challenges in dealing with a lot of changes facing the organisation, but still showing the commitment from the senior management team for the health and well being of their employees.
Charity - Highly Commended
The Highly Commended Award in the charity category went to Choice Housing – they showed how they were responsive to employee requests and had introduced additional staff leave, as well as placing a strong focus on health and well being through the appointment of health and well being champions.
Small Private Sector - Winner
A very worthy winner of the Small Private Sector category was Adventures Day Nursery. The judges were unanimous that this was an excellent application that was well structured and written. Despite a limited budget, the judges simply couldn't see much more that they could do. They could feel the passion for supporting their staff, recognising the daily pressures on the staff and offering 'Fun in the Sun' and 'Snow-good' days!
Small Private Sector - Highly Commended
The Highly Commended Award went to Gilbert-Ash Ltd. The judges liked that they had a Family Friendly Champion. They showed how they are very responsive to employee suggestions such as email downtime and the opportunity to purchase extra holidays.
Medium Private Sector - Winner
The Medium Private Sector Winner, sponsored by Citi, was TODD Architects. This organisation really stood out for the judges, demonstrating an excellent range of family friendly initiatives catering for over 70 people in two locations.
Medium Private Sector - Highly Commended
The Highly Commended winner in the Medium Private Sector category was Sleepy Hollow Group. The judges found this company had some really interesting initiatives such as their training academy, the offer of financial advice, supporting staff with dyslexia, as well as their four day week.
Large Private Sector - Winner
The Large Private Sector category, sponsored by Michelin Development Ltd, was awarded to Citi, who were recognised for their wide range of enhanced family friendly and well being initiatives including a parental toolkit, workshops for expectant parents, emergency childcare / care service and family travel insurance.
Large Private Sector - Highly Commended
Lagan Specialist Contracting Group were the Highly Commended entry in the Large Private Sector category. The judges liked the good range of initiatives and response to the needs of the employees, including those working away from home. The future plans with the onsite gym and employee benefits were also acknowledged.