Family Friendly Employer Awards 2019
Entries for 2019 now closed!
Each year, Employers For Childcare organises the UK Family Friendly Employer Awards, to recognise those employers, across all sectors, who offer the very best in family friendly policies and initiatives to their employees, going above and beyond legal requirements to support those with caring responsibilities, whether that's for children (of any age!), older relatives or even the family pet!
Entries are now CLOSED for this year's Awards and we are delighted with the response we have received with applications received from organisations of all sizes and all sectors from right across the UK.
Our expert judging panel has met to agree the winners, and all will be revealed at the gala Awards ceremony and celebration lunch, which takes place at Galgorm Resort and Spa, Co Antrim on Wednesday 16 October.
All those who have entered will receive an invitation to attend, so keep the date free!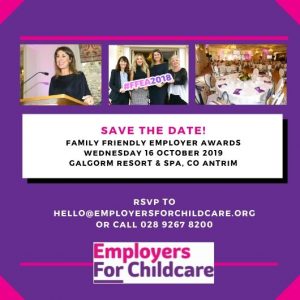 Thanks to our host local authority, Mid and East Antrim Borough Council, and to our sponsors, Ulster University, Henderson Group, Insight.Out, Highwire and NIJobs.com for their support.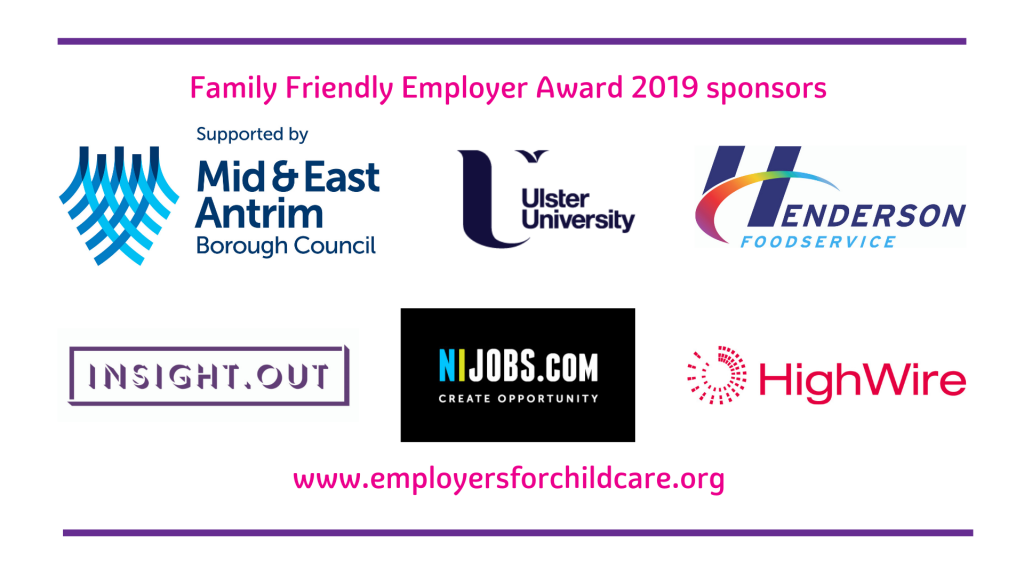 Here are some of last year's winners explaining what it meant to them to pick up the Family Friendly Employer Award accolade:
Keynote speaker
We are delighted to welcome Belinda Brown from Diageo as the keynote speaker for this year's Awards ceremony. Diageo has recently announced a number of progressive family friendly initiatives, including fully paid 26 weeks equal parental leave for all UK employees.
Belinda, who comes from Co Antrim, has been named in the 2019 Power 50 Awards, the annual list that celebrates the most outstanding senior business figures that work flexibly across the UK. The Timewise Power 50 list was created in 2012 to dispel the myth that it was impossible to be part-time and senior. Travelling extensively, Belinda works compressed hours within a four day working week, a pattern which she carried over into her promotion straight after returning from maternity leave.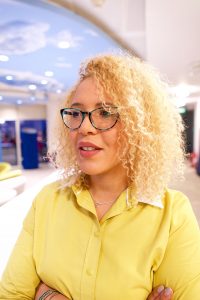 She leads Diageo's Global Audit & Risk (GAR) agenda for Africa and Europe and has a team of eight people who sit across Ghana, Kenya and Europe. She lives in South West London with her husband and returned to work when their son was seven months old.  Belinda went back on a four-day week and her husband took shared parental leave to be at home with their son full-time for the first three months after her return.
Belinda has been with Diageo for six years and prior to that, spent six years with L'Oréal UK and two years as a consultant with Deloitte. She grew up in Northern Ireland and studied Finance (BSc., MSc.) at Queen's University Belfast. 
Sponsorship opportunities
There are a number of sponsorship opportunities available in association with this year's Awards – with a wide range of packages on offer to suit all budgets.  Awards sponsors receive an attractive package of benefits, designed to help them get the most from their sponsorship.
Benefits of sponsorship
Opportunity to be associated with a prestigious event growing in profile across the UK
Opportunity to highlight your own organisation's family friendly credentials
Opportunity to showcase your goods or services to an interested and engaged audience of HR professionals, business owners and directors
For further information or to discuss how your organisation can benefit from close association with this important annual event, call our Communications team on 028 9267 8200 or email hello@employersforchildcare.org.
Sponsorship opportunities are allocated on a first-come, first-served basis and are booking up quickly, so call us today to ensure your organisation doesn't miss out.
Watch Linda below to find out more: