Social Enterprise
Employers For Childcare aims to support parents with dependent children to get into work and stay in work. Our organisation encompasses both a campaigning charity and the only Social Enterprise Childcare Voucher company in the UK, and 100% of the profits made from this are reinvested into our charitable activities.
Our Social Enterprise Childcare Voucher company benefits:
organisations: through savings on employers' National Insurance Contributions, reduced absenteeism, increased staff motivation/productivity, and contributes to their Corporate Social Responsibility;
employees: who save money on childcare costs; and
families across the UK: our charity (funded through our Social Enterprise Childcare Voucher company), advises working parents on what financial support they are entitled to, and lobbies policymakers on their behalf.
When people and organisations buy from a social enterprise, they are choosing to spend money with a business that is giving back, reinvesting its profits to address pressing social issues. Since 2008, as a result of parents and employers choosing to 'buy social' and use Employers For Childcare to administer their Childcare Voucher Scheme, not only have they saved money, but they have enabled us to invest £5.2 million into helping working families across the UK. In 2016/17 alone, callers to our Family Benefits Advice Service who received a calculation collectively saved more than £14.8 million. To read more about how our Social Enterprise Childcare Voucher company supports our charity, download our Social Impact 2016/17 report.
As a result of our impact, we were shortlisted in two categories at the Social Enterprise UK Awards, 2017.  Employers For Childcare was a finalist for 'Social Enterprise of the Year' and Marie Marin, our Chief Executive, was a finalist in 'Women in Social Enterprise'. We were thrilled to be shortlisted in both categories and travelled to London to attend the Awards ceremony – a great night was had by all! It was an honour to be recognised alongside such incredible organisations. Find out more here.
Marie has also been placed on the first NatWest WISE 100 list, highlighting 100 of the most influential women in social enterprise from across the UK.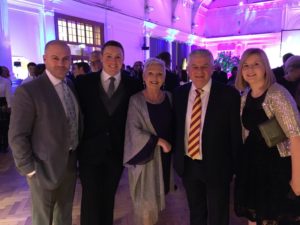 The jubliant Employers For Childcare team attend the Social Enterprise UK Awards ceremony in London's Royal Horticultural Halls L-R: Tom Mervyn, Board Member, Mark Walls, UK Commercial Manager, Marie Marin, Chief Executive, Michael Stevenson, Chairperson and Aoife Hamilton, Policy & Information Manager.
Social Enterprise UK Awards 2017 Finalist
Hear more about us from our team!