Social Enterprise
Employers For Childcare aims to support parents with dependent children to get into work and stay in work. Our organisation encompasses both a campaigning charity and the only Social Enterprise Childcare Voucher company in the UK, and 100% of the profits made from this are reinvested into our charitable activities.
What is a Social Enterprise?
Social Enterprises are businesses that trade to alleviate social problems, improve communities and enhance people's life chances. They make money from selling goods and services in an open market, but they reinvest their profits back into the business or the local community to maximise social impact and to create social change. They do this in lots of different ways: creating jobs for people who would otherwise be left out, reinvesting profits in community projects or charitable work, protecting the environment, or providing vital services for people who might not get them otherwise.
Many charities are Social Enterprises through and through: they don't rely on grants and donations, but instead earn the bulk of their income through selling goods and services then reinvesting the profits they make to do more good.
The UK Government defines Social Enterprises as: "Businesses with primarily social objectives whose surpluses are principally reinvested for that purpose in the business or in the community, rather than being driven by the need to maximise profit for shareholders and owners."
Examples of Social Enterprises that you might have heard of include:
Social Enterprise statistics:
There are over 70,000 UK Social Enterprises and they comprise 9% of the UK small business population
1.4 million people are employed by Social Enterprises
40% are led by women with 51% having a majority female workforce
For 27% of social enterprises, selling to the public is their main source of income
73% earn more than three quarters of their income from trade
Social Enterprises contribute more than £24 billion to the UK economy
(Source: Social Enterprise Market Trends 2017)
Find out more about Social Enterprises in the UK by visiting www.socialenterprise.org.uk or about Social Enterprises in Northern Ireland by visiting www.socialenterpriseni.org  
Employers For Childcare as a Social Enterprise
Our Social Enterprise, Employers For Childcare Trading, provides a range of services to stakeholders.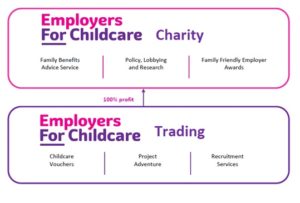 Childcare Vouchers
We operate the only social enterprise Childcare Voucher company in the UK which benefits:
working parents: who save money on childcare costs
employers: through savings on Employer's National Insurance Contributions, reduced absenteeism, and increased staff motivation/productivity
families across the UK: our charity (funded through our Social Enterprise activities), advises working parents on what financial support they are entitled to, and lobbies policymakers on their behalf.
While Childcare Vouchers closed to new entrants on 4 October 2018, existing users who have already registered for Childcare Vouchers, can continue to use the Scheme, as long as they remain eligible. For further details on this, contact our Family Benefits Advice Service on 0800 028 3008. Employers can also choose to switch their Childcare Voucher provider company – if you are interested in buying social, why not find out more about making the switch. Remember, it doesn't cost you anything but benefits families across the UK!
Project Adventure
This year we embarked on the expansion of our social enterprise, and are developing a new project comprising an indoor activity centre which will be inclusive and accessible for all, particularly addressing the needs of families who have a child with additional needs. Watch this space for further updates as this project develops!
Recruitment Services
For childcare providers, we help to remove the time and hassle involved in finding staff by offering tailored recruitment packages. This is a service that we developed to respond to the needs of the beneficiaries and clients we work with, as they had identified this gap.
Social Impact
When people and organisations buy from a social enterprise, they are choosing to spend money with a business that is giving back, reinvesting its profits to address pressing social issues.
Since 2008, as a result of parents and employers choosing to 'buy social' and using Employers For Childcare to administer their Childcare Voucher Scheme, not only have they saved money, but they have enabled us to invest £6.2 million into helping working families across the UK.
In 2017/18 alone, callers to our charity's Family Benefits Advice Service who received a calculation collectively saved more than £13.2 million. To read more about how our Social Enterprise supports our charity, download our Social Impact 2017/18 report.
Buy Social Corporate Challenge 2020
A group of high profile businesses are aiming to spend £1 billion with social enterprises by 2020 as part of the Buy Social Corporate Challenge.  This is a Social Enterprise UK initiative, in partnership with the UK Government, and sees a number of forward-thinking companies opening up their supply chains to social enterprise. In the first two years of the initiative, over £45 million has been spent by corporate partners and the Challenge has helped to create 329 jobs at Social Enterprises.  Through corporate contracts, social enterprises have been able to reinvest £2.98 million into their social missions.
In 2018, Employers For Childcare was delighted to welcome Interserve PLC as a new user of our Childcare Voucher scheme, through their commitment to the Buy Social Corporate Challenge.
If your organisation would like further information on how social business is good business, contact us on 028 9267 8200.
Social Enterprise UK Awards
As a result of our impact, our Chief Executive, Marie Marin, has been shortlisted as a finalist in the 'Women in Social Enterprise' category at the Social Enterprise UK Awards, 2018.
Marie is one of just 19 women who was nominated in both 2017 and 2018 for the NatWest WISE100 (Women in Social Enterprise 100) which recognises the most inspiring and influential women in social enterprise, impact investment and mission-driven business.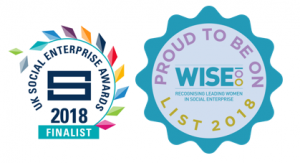 Hear more about us from our team!