While unemployment rate has fallen, economic inactivity remains above pre-pandemic levels in Northern Ireland
The latest labour market statistics published today (17 May) by the Northern Ireland Statistics and Research Agency reveal that the unemployment rate in Northern Ireland has continued to fall, and is now back to 2019 levels. While indicators point to a continuing post-Covid jobs market recovery, and the employment rate has increased, economic inactivity remains high, at 26%, compared to the overall UK rate of 21.4% (ONS statistics).
The Office for National Statistics (ONS) describes people who are 'economically inactive' as individuals aged between 16 and 64 years old who are not in employment and have not been seeking work within the last 4 weeks and/or are unable to start work within the next 2 weeks. This can include people who are sick, students, and individuals who have taken early retirement. A key factor contributing to economic inactivity amongst those who would like to work, particularly women, is being unable to do so due to looking after their family or home.
Why does this matter?
Understanding the reasons for economic inactivity has important implications for policies in relation to issues like childcare, which clearly impacts on female participation in the workforce. Economic inactivity figures show that a significant number of people with caring responsibilities, disproportionately women, are excluded from the job market in Northern Ireland. These are individuals who would like to work, but factors such as an inability to access or afford they childcare they would need prevent them from doing so. It is important to explore why this is the case, to ensure that our local economy can benefit from their skills and experience.
In our most recent Northern Ireland Childcare Survey, we found that difficulties in accessing or affording childcare impacted on the ability of parents to work. This affected 44% of the parents who participated in the research, rising to 58% of mothers, compared to 27% of fathers. This impacted on parents in a range of ways, with many having had to reduce their hours of work, others experiencing limited career prospects or progression, while some had to stop working altogether.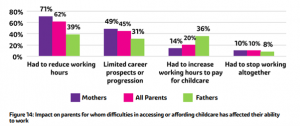 Through our research we found that the time when a parent is most likely to struggle to afford the childcare they need is when they are seeking to return to work from parental leave, and for the first two years of their child's life. This is when typically full time childcare will be required. If we are to support parents to enter, or stay in the workforce, and help to give children the best start during their formative first 1,000 days, addressing this needs to be a priority for the Department of Education as they work on the development of a new Childcare Strategy for Northern Ireland.

At a time when one of the biggest challenges facing organisations is recruitment and labour shortages, it is critical that we address infrastructural barriers that are preventing parents from entering, and remaining in, the workforce. This includes childcare.
How can we remove barriers to parents getting into the workforce?
We need a childcare system that can promote economic participation and support families to get into and stay in work. This requires investment in an ambitious, fully funded Childcare Strategy that recognises childcare as part of our essential economic infrastructure.
An accessible, high quality, affordable childcare system is essential if we are to move towards an economy which supports everyone to thrive and enables all sectors – whether that is big business, small enterprise or the self-employed, and from retail and hospitality and tourism to IT, services and construction – to achieve their full potential.
Investment in childcare to support parents to work has wider economic benefits, not just for parents but for the economy as a whole. The Centre for Progressive Policy reported that investment in childcare could increase the total annual income of working mothers in the UK by up to £10 billion, generating up to £28 billion in economic output per annum.
The Women's Budget Group has estimated that investment in care – including in childcare – would produce 2.7 times as many jobs as an equivalent investment in construction, highlighting that this is an excellent way to stimulate employment. At a time when many employers, across a wide range of sectors, are struggling to recruit and retain staff, a key part of the solution is to ensure that parents can access and afford the childcare they need to work.
We need an Executive formed to make urgent progress on Childcare Strategy
In the run up to the recent Northern Ireland Assembly Election, it was positive that the importance of childcare was widely recognised by parties and candidates, featuring prominently in campaigning and manifestos. This reflects how critical an issue this is for families, childcare providers, employers and society as a whole – an issue that candidates will have heard day and daily on the doorsteps.
And yet, with a Childcare Strategy already long overdue, political instability and uncertainty is hampering much needed progress. This cannot continue. What we need now is a functioning Government in place with Ministers around the table agreeing the actions, and committing the resources, to ensure the promises of the campaign are translated into meaningful progress. For that, we require an Executive to be formed, Ministers to be appointed and our new MLAs to get on with the business that people have elected them to do.
Employers For Childcare is committed and ready to work with the next Education Minister and their Executive colleagues to develop and deliver a world-leading Childcare Strategy for Northern Ireland that delivers for families, for our economy and for our society as a whole.