Family Friendly Employer Workshop 2020
Employers For Childcare's annual Family Friendly Employer Workshop takes place on Wednesday 22 April, kindly hosted by Citi in their offices at 60 Sydenham Road, Belfast, BT3 9DP. The workshop runs from 9.30am until 12.30pm and will feature a range of speakers talking about their experience of planning and implementing family friendly working policies and offering advice to attendees on what they have learnt along the way.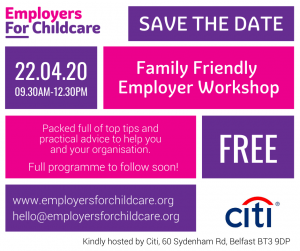 Confirmed speakers include:
Sue Gray, Permanent Secretary, Department of Finance
Samantha Whann, HR Manager, Belfast Health and Social Care Trust
Kathleen Mulligan, Head of Resources, Advice NI
Neil Hutcheson, Policy Manager, FSB NI
Maria McDonagh, Owner, Adventures Day Nursery
Graeme Wilkinson, Director of Skills, Department for the Economy
Cllr Michelle Guy, Lisburn and Castlereagh City Council
Aoife Hamilton, Policy and Information Manager, Employers For Childcare.
The workshop is FREE TO ATTEND but places are limited and must be booked in advance – email hello@employersforchildcare.org to secure your place.
Refreshments will be available on arrival and a light lunch will be available following the workshop, kindly provided by Citi.
Speakers
Sue Gray
Permanent Secretary, Department of Finance
Sue Gray transferred from the Cabinet Office to take up the role of Permanent Secretary in the Department of Finance in May 2018. Sue's previous role was Director General of Propriety and Ethics and the Private Office Group where her responsibilities included policy and advice on standards and ethics issues, including the Ministerial, Civil Service and Special Advisers Codes of Conduct.  Additionally, Sue was responsible for Public Appointments and Honours, and Freedom of Information policy.
Aoife Hamilton
Policy and Information Manager, Employers For Childcare
Aoife Hamilton is Policy and Information Manager at Employers For Childcare, where she is responsible for managing the organisation's charity. This includes the Family Benefits Advice Service, which provides a Freephone helpline and advice and outreach service to parents and employers. A key role of the Family Benefits Advice Service is helping employers to plan and implement family friendly policies and initiatives in the workplace. Aoife is also responsible for co-ordinating the charity's research and its policy and lobbying work – campaigning for better investment in childcare support to help parents with dependent children to get into work and stay in work. Prior to joining Employers For Childcare at the start of 2017, Aoife held the role of Policy Development Manager at the Charity Commission for Northern Ireland.
Maria McDonagh
Owner and Manager, Adventures Day Nursery
Maria McDonagh is the Owner and Manager of Adventures Day Nursery, a role she has held since 2006. The nursery has grown from having 10 employees when it opened, to 30 employees currently, with 98 children now attending.  She is also a Childcare Assessor for People First and is Chairperson of Early Years, the Organisation for Young People. Maria was previously Database Marketing Manager for Open + Direct for seven years, and prior to that worked in a number of roles for Ulster Bank. Adventures Day Nursery prides itself on its family friendly culture, believing happy staff means happy children and won the Small Private Sector Award at the UK Family Friendly Employer Awards 2018 and 2019.
Samantha Whann
Senior HR Manager, Belfast Health & Social Care Trust
Samantha Whann is Senior HR Manager within Belfast Health and Social Care Trust. Currently her remit includes improving working lives, attendance management, workforce governance and employment equality. Samantha has a keen interest in all matters relating to improving working lives and the correlation with physical, mental and emotional health and wellbeing. As a HR professional employed within Northern Ireland's largest health and social care Trust, Samantha is keen to share what has worked for the Trust and also, importantly, learn from other employers within Northern Ireland and beyond to ensure best practice in supporting working parents.
Graeme Wilkinson
Director of Skills, Department for the Economy
Graeme Wilkinson is the Director of Skills at the Department for the Economy and is leading work on the development of the new skills strategy for Northern Ireland, including key research commissioned by the Organisation for Economic Co-operation and Development (OECD). Graeme is a Chartered Accountant and has worked in a wide range of roles across the Northern Ireland Civil Service, (NICS). Prior to taking up his current post he led the NICS EU Exit preparations as Director of EU Relations. He has also played a key role in a number of large scale change programmes across the public sector, including Water Reform, Prison Reform and the Reform of Legal Aid.