Family Friendly Employer Awards 2018
Judging for 2018 Awards has taken place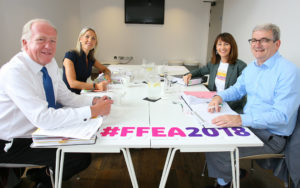 Entries to our 2018 Family Friendly Employer Awards 2018 have now closed! Our expert judging panel met recently to shortlist the applications, with a record number of entries for this year's Awards they had a busy morning filled with great discussion! Many thanks to our judges for their valuable input. It's great to see so many organisations putting family friendly policies in place in the workplace, the judges were impressed by the many innovative initiatives in place.
We look forward to revealing the winners at our Awards ceremony and celebration in Galgorm Resort and Spa on Wednesday 24 October – further details to be announced soon.
If you have any queries regarding the Awards, please don't hesitate to contact us on hello@employersforchildcare.org or call us on 028 9267 8200.
In the meantime, why not take a minute to have a quick look at the video below, with some of the highlights from last year's Awards?