Family Friendly Employer Awards 2018
Places filling up fast!
The countdown is now on to the UK Family Friendly Employer Awards 2018, which take place on Wednesday 24 October from 11.30am-2.00pm in Galgorm Resort & Spa, Ballymena, Co Antrim. Tickets for the Awards celebration and lunch are free but are filling up fast! For further information, or to register click here.  It's a great networking opportunity and attendees will come away with lots of useful insight into how to implement family friendly policies and initiatives in their own organisations.
We have been delighted with the response to the 2018 Awards with entries coming in from across the UK, and from organisations large and small across all sectors.  We look forward to revealing the winners on the day…not long now!
Our guest speaker for this year's Awards is the inspirational Nikki Bradley, who despite being diagnosed with a rare form of bone cancer and receiving a hip replacement at the age of twenty six, has just recently become the first person to scale four of Ireland's highest mountains – on crutches!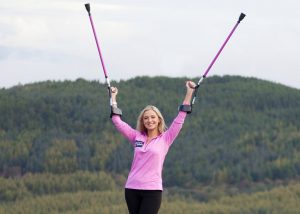 If you have any queries regarding the Awards, please don't hesitate to contact us on hello@employersforchildcare.org or call us on 028 9267 8200.
In the meantime, why not take a minute to have a quick look at the video below, with some of the highlights from last year's Awards?