Family Friendly Employer Workshop 2019
We are holding our annual Family Friendly Employer Workshop in Belfast on the morning of Tuesday 9 April 2019 – details as follows: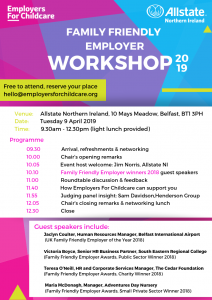 The workshop, which is free to attend, features speakers from across a range of sectors, talking about how to plan and implement practical, low cost family friendly policies in the work place.
Who should attend? 
The workshop will be of interest to all employers who would like to learn more about how to be more family friendly in their own organisations and how doing so will be beneficial to both them and their employees.  It's a great learning and networking opportunity for HR professionals and business leaders.
How do I register?
Places at the workshop are free, but are limited, and offered on a first-come, first-served basis.  To register, email your details to hello@employersforchildcare.org.