What is our Social Impact 2021?
So how does an organisation 'make a social impact to create social change'? In our case, through our social enterprise businesses (Childcare Vouchers, nursery recruitment and High Rise) we re-invest 100% of our profits into generating positive social impact, expanding our social enterprise activities and funding the work of our charity, including the Family Benefits Advice Service and our research and lobbying work. Over the past year, the services of our charity have been more needed, and more in demand, than ever as families continue to struggle to find and afford the childcare they need, cope with rising household expenses and continue to feel the economic impact of Covid-19.
Through our telephone helpline and outreach services last year (2020/21) we completed almost 4,000 personal benefits checks, delivered 85 online outreach sessions and helped more than 13,400 people. Parents who received a personal benefits check identified an average of £2,800 in financial support and collectively saved more than £3.5 million. So that's £3.5 million put back into parents' pockets, helping them to get into and stay in work and driving the economy – positive social change in action!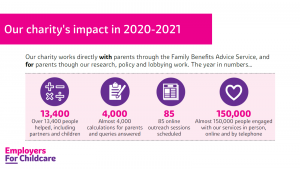 Marie Marin, Chief Executive of Employers For Childcare says thank you to all those employers who have chosen to 'buy social' and use our Childcare Vouchers, including those who have switched to us from another provider. We are the only Social Enterprise in the UK providing this service on behalf of employers and we work with organisations of all sizes and all sectors across the UK.
How much have we invested?
Since 2008 we have reinvested £7.1 million into providing services for families, through our charity. We provide a free, impartial and confidential Family Benefits Advice Service, we carry out research addressing childcare and work-related issues and we lobby government to improve support for families.
Through our social enterprise activities and charity, our impact in 2020/21 has included:
13,925 parents using our Childcare Vouchers, collectively saving those parents £5.7 million in childcare costs
1,893 employers offering our Childcare Voucher scheme to their staff, collectively saving those employers £2.5 million in National Insurance Contributions
Supporting almost 100 childcare providers with AccessNI and recruitment services
Advising MLAs and policy-makers on childcare issues, including the delivery of over £30 million in essential funding to support the recovery and reopening of the childcare sector following Covid-19.
Industry recognition
As a result of our impact, our Chief Executive, Marie Marin has been recognised for her work within the Social Enterprise sector, at a Northern Ireland, UK and European level.
On International Women's Day in March 2021, Marie was named as one of the Top 100 Women in Social Enterprise in Europe, in recognition of her work within the Social Enterprise sector over the past two decades. The Top 100 is an initiative of the Euclid Network, which is supported by the European Commission.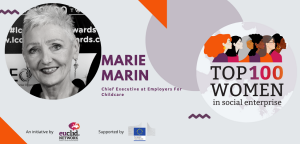 CO3 Leadership Awards 2020 – Inspiring Leader of the Year
Our Chief Executive, Marie Marin, was named Inspiring Leader of the Year at the CO3 Awards, which were held virtually in December 2020, while our Head of Charity Services, Aoife Hamilton, was Highly Commended in the One to Watch category.