What is our Social Impact?
So how does an organisation 'make a social impact to create social change'?  In our case, our social enterprise funds the work of our charity, including the Family Benefits Advice Service and our research and lobbying work. Through our telephone helpline and outreach services last year (2018/19) we completed more than 8,000 personal benefits checks, delivered 386 outreach sessions and helped more than 11,400 people. Parents who received a personal benefits check identified an average of £3,499 in financial support and collectively saved more than £10.4 million. So that's £10.4 million put back into parents' pockets, helping them to get into and stay in work and driving the economy – positive social change in action!

To read more about how our Social Enterprise supports our charity, download our Social Impact Report 2018/19.
How much we have invested?
Since 2008 we have reinvested £6.7 million into providing services for families. We provide a free, impartial and confidential Family Benefits Advice Service, we carry out research addressing childcare and work related issues and lobby government to improve support for families.
Through our social enterprise activities and charity, our impact in 2018/19 has included:
16,500+ parents using our Childcare Vouchers, collectively saving those parents £11.2 million in childcare costs
2,821 employers offering our Childcare Voucher scheme to their staff, collectively saving those employers £4.8 million in National Insurance Contributions
Publication of the 10th annual Northern Ireland Childcare Survey
Hosting of the Family Friendly Employer Awards 2019
Buy Social Corporate Challenge 2020
A group of high profile businesses are aiming to spend £1 billion with social enterprises by 2020 as part of the Buy Social Corporate Challenge.  This is a Social Enterprise UK initiative, in partnership with the UK Government, and sees a number of forward-thinking companies opening up their supply chains to social enterprise. In the first three years of the initiative, over £65 million has been spent by corporate partners and the Challenge has helped to create 637 jobs at Social Enterprises.  Through corporate contracts, social enterprises have been able to reinvest £5.5 million into their social missions.
In 2018, Employers For Childcare was delighted to welcome Interserve PLC as a new user of our Childcare Voucher scheme, through their commitment to the Buy Social Corporate Challenge and we are actively engaged in discussions with a number of the other corporate partners who have signed up to the initiative.
If your organisation would like further information on how social business is good business, contact us on 028 9267 8200 or email business@employersforchildcare.org.
Industry Recognition
As a result of our impact, our Chief Executive, Marie Marin has been recognised for her work within the Social Enterprise sector, and was awarded the 'Lifetime Achievement' Award at the annual Social Enterprise Northern Ireland Awards. Employers For Childcare was presented with the Award for 'Social Enterprise of the Year.'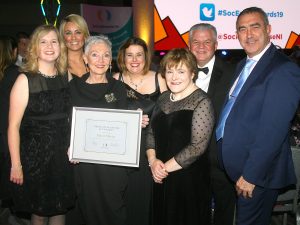 Marie is now shortlisted as a finalised in the 'Women in Social Enterprise' category and Employers For Childcare are shortlisted for 'Social Enterprise of the Year' at the UK Social Enterprise UK Awards 2019