What is our Social Impact 2020?
So how does an organisation 'make a social impact to create social change'?  In our case, our social enterprise businesses (Childcare Vouchers, nursery recruitment and High Rise) invest 100% of their profits in funding the work of our charity, including the Family Benefits Advice Service and our research and lobbying work. Over the past year, the services of our charity have been more needed, and more in demand, than ever as we have worked to help, advise and advocate for parents, childcare providers and employers throughout the challenges of COVID-19.
Through our telephone helpline and outreach services last year (2019/20) we completed more than 5,000 personal benefits checks, delivered 240 outreach sessions and helped more than 14,300 people. Parents who received a personal benefits check identified an average of £4,267 in financial support and collectively saved more than £12.6 million. So that's £12.6 million put back into parents' pockets, helping them to get into and stay in work and driving the economy – positive social change in action!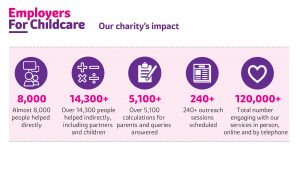 To read more about how our Social Enterprise supports our charity, download our Social Impact Report 2019-20.
Employers For Childcare Chief Executive Marie Marin says thank you to all those employers who choose to 'buy social' and enable Employers For Childcare to deliver positive social impact across the UK by supporting parents, employers and childcare providers.
How much have we invested?
Since 2008 we have reinvested £6.8 million into providing services for families, through our charity. We provide a free, impartial and confidential Family Benefits Advice Service, we carry out research addressing childcare and work-related issues and we lobby government to improve support for families.
Through our social enterprise activities and charity, our impact in 2019/20 has included:
14,600 parents using our Childcare Vouchers, collectively saving those parents £8.7 million in childcare costs
2,385 employers offering our Childcare Voucher scheme to their staff, collectively saving those employers £3.8 million in National Insurance Contributions
Opening of High Rise, a brand new indoor adventure centre, designed to be inclusive for those with special and additional needs and featuring an innovative Sensory Room, Quiet Room and a Changing Places toilet facility, to support these guests (High Rise has subsequently had to close as a result of COVID-19 but will reopen in 2021)
Helping almost 600 people, directly impacted by COVID-19 in the first two months of the pandemic, through our helpline.
High Rise
Our newest Social Enterprise, High Rise, is an inclusive indoor centre, opened in November 2019 and providing a range of activities for all ages, including those with special and additional needs. 100% of the profits from High Rise are invested in supporting the work of our charity. So every family, or corporate group, who visits the centre, as well as enjoying a fun day out, is helping us to make a difference to families who need it most.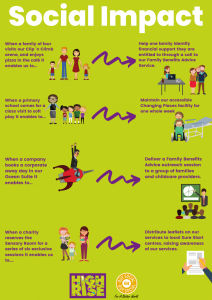 High Rise is currently closed, as a result of COVID-19, but will reopen in 2021 and will continue to provide vital services to local families, as well as contributing 100% of profits to funding the work of our charity.
Buy Social Corporate Challenge 2020
A group of high profile businesses are aiming to spend £1 billion with social enterprises by 2020 as part of the Buy Social Corporate Challenge.  This is a Social Enterprise UK initiative, in partnership with the UK Government, and sees a number of forward-thinking companies opening up their supply chains to social enterprise. In the first three years of the initiative, over £65 million has been spent by corporate partners and the Challenge has helped to create 637 jobs at Social Enterprises.  Through corporate contracts, social enterprises have been able to reinvest £5.5 million into their social missions.
If your organisation would like further information on how social business is good business, contact us on 028 9267 8200 or email business@employersforchildcare.org.
Industry recognition
As a result of our impact, our Chief Executive, Marie Marin has been recognised for her work within the Social Enterprise sector, both at a Northern Ireland and a UK level. Marie was Woman of the Year in Social Enterprise at the Social Enterprise UK Awards in London in 2019 and was awarded a prestigious Honorary Fellowship on the night, and admitted to the Social Enterprise UK Hall of Fame.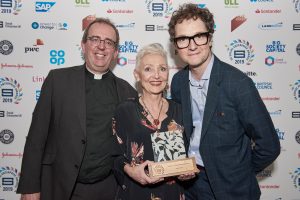 In Northern Ireland, Marie was awarded the 'Lifetime Achievement' Award at the annual Social Enterprise Northern Ireland Awards in 2019 and Employers For Childcare was presented with the Award for 'Social Enterprise of the Year.'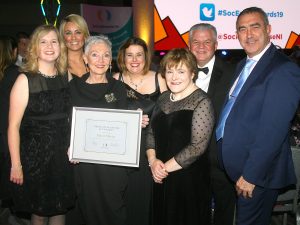 Employers For Childcare was also  named 'Social Enterprise of the Year' at the Lisburn and Castlereagh City Council Business Awards in 2020, with High Rise picking up the award for Best New Business.